Shopping Cart
Your Cart is Empty
There was an error with PayPal
Click here to try again
Thank you for your business!
You should be receiving an order confirmation from Paypal shortly.
Exit Shopping Cart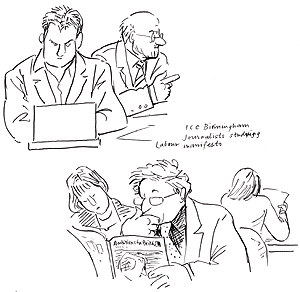 'He will undoubtedly claim his place among the most significant pianists of this new millennium'
Karjalainen, Joensuu, Finland


'Like Horowitz, Rubinstein, Wilhelm Kempff, Claudio Arrau, Samson François, Yves Nat, and others among the most famous pianists, he can create an atmosphere and give us pure music'
Soizik Moreau, Associate Mayor, in charge of Culture, XIth District, Paris, France


'A flamboyant mastery and an astonishingly beautiful musicality'
Musiques dans les Vignes festival, France


'Young French pianist Jean Dubé shows imagination, presence and the power of an orchestral sound'
Le Monde de la Musique, Paris, France


'Dubé has emerged as one of the most exciting names in his field'
Morning Post Southern China, Hong Kong


'Kongeniale Liszt-Interpretationen: Es ist einfach wunderbar, wenn ein blutjunger Franzose nach Bayreuth in die Villa Wahnfried eingeladen wird, sich an den Steinway-Flügel Richard Wagners setzt und einige Werke Franz Liszts mit eigenen und Themen des ehemaligen Hausherren spielt wie der einstige Klaviervirtuose selbst'
Hans-Joachim Bauer, Bayreuth, Germany


'Technically flawless and dazzling'
Thys Odendaal, Die Beeld Plus, South Africa


'The winner of this year 6th International Liszt Competition in Utrecht - Jean Dubé - astonished everybody with his piano art and music maturity. Inconspicuous, but charming, the 21-year-old pianist has outstanding manual dexterity: his fingers seem to control the keyboard and operate on it with great ease and fluency. His play seems both conscious and judicious'
Kazimierz Kosciukiewicz, Slowo Polskie, Poland


'Dubé played as though he was sitting at the piano for fun. He showed control but also let his audience feel that Liszt was more than a show-off. He brought about joy and even happiness (there is no better praise for a musician)'
Marjolein van Rotterdam, Algemeen Dagblad, The Netherlands


'We will remember his fiery virtuosity, his orginality, his deep musicality as well as his impact on the public'
Le Figaro, France


'Jean Dubé was the participant who was most on top of the subject matter. He opted for speed and spectacle and succeeded in communicating his enthusiasm for Liszt's virtuosity to the audience. His well-developed cadence yielded standing ovations from the music devotees who had come to Utrecht in large numbers. They rightly chose him as winner of the public award'
Běla Luttmer, De Telegraaf, The Netherlands


'The young piano prodigy in France'
YAMAHA Acoustic News


'He refuses to act as a phenomenon'
Le Monde de la Musique, France


'Furthermore, someone like Jean Dubé comes along and the bizarre character of, for example, the 'Tarantelle di bravura' – formula 1class pianoforte acrobatics – suddenly acquires the lustre of a magical performance. [..] It was not only that his fingers executed supernatural antics, but the Canadian-born French pianist also unexpectedly made listening to Liszt enjoyable again [..]'
Aad van der Ven, Eindhovens Dagblad, The Netherlands


'Jean Dubé is a genius. I am not worried at all for his future'
Mr Tomoaki Fuji (Jury member) in the Chopin Piano Magazine, Japan


'Dubé verfügt über eine überwältigende hochvirtuose Technik, so zupackend, dass er längst keine manuellen Problemen mehr zu kennen scheint'
Michael Heyer, Süddeutsche Zeitung, Germany


'As soon as Jean Dubé put his fingers on the piano, last Sunday at Westminster Hotel, the audience was in the seventh heaven. He just started an Impromptu by Chopin. Only magicians are able to delight instantaneously the public like this. Jean Dubé is, in his own way, a magician. Since the first applause, the audience gave him a standing ovation. That happens rarely. There are not many 21 years old pianists like Jean Dubé. He shows a perfect mastery of the piano, a breathtaking virtuosity, an ideal musicality, a wonderful sound. Furthermore, his ability to touch the heart makes the difference between first-class artists like him and the other ones'
\Nice-Matin, France


'Breathtaking! Young french pianist showed a solid technic and a deeply moving sensibility during Sala Beethoven "debut" recital
"We want him back! We want him back!" seemed to mean the standing ovation given to french pianist Jean Dubé after his breathtaking recital showing that he is among those young interpreters destined to a great future. Last Tuesday evening, 21 years-old Jean Dubé played like the best mature pianist, during the "Sala Beethoven" International Piano Festival, showing a solid tecnic, a total devotion to his art and a deeply moving expressive power. We only have one regret: not beeing able to listen to this great artst's playing again and again. Actually, Jean Dubé is not only a fantastic virtuoso with a strong physical resistance, but also an exquisite pianist capable of expressing the subtlest shades and the deepest musical emotions. Furthermore, the concert program he chose was interesting and innovating, including various periods and styles rarely performed in our concert halls. Listening to him was was a real pleasure from the beginning to the end.
During the first part, he presented his own pianistic versionof "Prelude, Fugue et Variation", a deeply poetical exquisite piece originally created for the organ by César Franck, which gave Jean Dubé the chance of displaying the beautiful sounds he can produce as well as his delicate phrasing and the most sincere emotion. The audience could fully appreciate his execution as well as his personal version of the piece during the successful sale of his compact discs dedicated to César Franck's music. Among Albeniz' pieces from "Iberia", his interpretation of "Triana" underlined his ability to show a variety of colours and, once more, the quality of his sound. His enormous muscular strength was always under control and he could make us enjoy his amazing orchestral version of the "Spanish Rhapsody" by Liszt, with prodigious fantastic attacks, which never trespassed the bonds of wisdom and good taste.
During the second part of the recital we could continuously enjoy his dazzling performance. Each piece was an occasion to discover his pianistic genious as well as the strong value of his interpretation. His interesting piano version of the "Valse triste" by Sibelius, he played with a sovereign competence bringing an intensely passionate performance was fully and deeply appreciated.
His interpretation of the "Dances of Marrosszék" truly was a "tour de force" like during high level sportive performances, because he teamed a flawless tecnical ability with a perfect sound balance. Through this XXth century piano piece, he played like those great virstuosos of the XIXth century. He ended the recital with a version of Ginastera First piano sonata which revealed an authentic devotion to the composer's music and a deep understanding of his art.
There is no doubt that his convincing interpretation magnetizes the audience as only the greatest pianists are able to. Listening to Jean Dubé was a true privilege. Let's hope that the Management team of Sala Beethoven Piano Festivals will very soon offer a new contract to this great artist'
Alejandro Fernández, musical critic, El Norte, Monterrey, Mexico


'With artists of Jean Dubé's caliber, the future of French piano looks safe. He plays with a clear fiery eloquence, which reminds us of Yves's Nat. He is at ease in playing the romantic repertoire as well as the contemporary pieces'
Orléans, La République du Centre, France


'We will remember his fiery virtuosity, his originality, his deep musicality as well as his impact on the public'
Le Figaro, Paris, France


'The soloist's art passed like a powerful breath over the audience'
Badisches Tagblatt, Baden-Baden, Germany


'An extraordinary power, an unbelievable talent'
Festival de Pierrefonds, France


'His wonderful performance achieved great success on television. He is a marvelous pianist who fascinates us by his refined performance. We are looking forward to listening to his wonderful play once again soon'
Ayako Murano, NHK Staff Producer, Japan National Broadcasting Corporation, Tokyo, Japan


'I was literally astonished by Jean Dubé. The ease and clarity of the sound, the beauty of the phrasing, the understanding of the score were at the same level as the technical qualities which you forget quickly like when you listen to a great (in all the meanings of the word) interpreter'
Gérard Gefen, La Lettre du Musicien, Paris
/